SunnyCon Newcastle 2019!
1st June 2019
---
Yes, that's right – it's that time of year again! From Friday 28th to Sunday 30th June we'll be heading to our favourite local convention to join in the festivities. St James Park in Newcastle Upon Tyne plays host once again to the one of the largest anime events in the country: SunnyCon Anime Expo!
We've been proud to be part of the show since the very beginning as part of their Artist Alley (we've even hosted panels and workshops too!) and every year the show just keeps getting bigger and better.
SunnyCon has everything you could want from a fun weekend of geeking out. There's guests, cosplay, games, panels, Japanese culture, merch, whiskey tasting, a huge charity auction, and of course us artists!
This years charity auction will be raising funds for the North East Autism Society, which is very dear to our hearts as they provide support services to Donna's younger brother, Peter.
This years guests are two awesome voice actresses;
---
Where To Find Us
This year we'll be easy to find but just in case you need some directions check out the maps below! We'll be the ones on Level 4 next to the entrance with the 12 foot blue and rainbow covered table 129.
We'll have plenty of LGBT* comics, art prints, original sketches, mugs, pins, and much more available all weekend.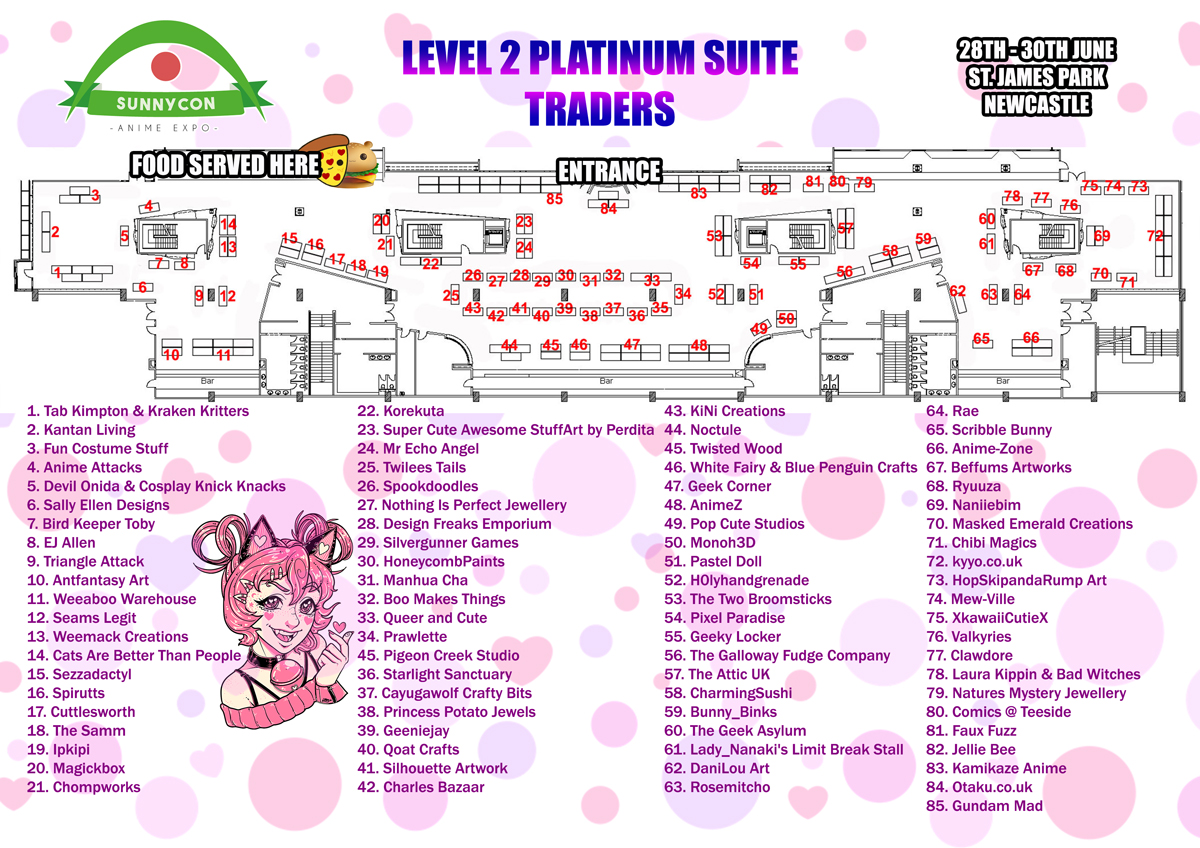 ---
Tips For First Timers
Sometimes conventions can be overwhelming, especially for first timers. But don't worry because angelKat are definitely veterans at this by now so we probably have some useful tips and wisdom that may make your weekend even better.
First let's get the "we shouldn't have to say this but…" section;
Shower, and use a reasonable amount of deoderant.
Be polite and respectful of others.
Cosplay is not consent: no touchy and ask before snapping photos.
Keep your valuables safe: sadly in any crowded event there may be some less than honest folks too so don't lose your phone/wallet/purchases to someones sticky fingers! SunnyCon do have a secure cloakroom available if you don't want to carry stuff around though.
Now that that's out of the way;
Make sure you stay hydrated and get something to eat. It's easy to forget, and often St James Park can get pretty warm and busy. SunnyCon do have free water stations set up around the venue, and there are places to grab a bite to eat inside the venue too.
Check the show schedule – if there's something you want to do, you should probably make sure you know when and where it's taking place.
Bring enough cash. There are cash machines nearby (at least one outside the venue, and another at the Tesco across the street). And a few of the vendors will take card payments (including us!) but that's not guaranteed due to internet connections etc.
Try not to spend all of your cash on day one if you're going to be there all weekend. We won't complain if you spend it all with us, but that doesn't mean you should make yourself short for things later in the weekend (or spend your lunch money for next week).
If you can't find something specific to your favourite fandom or beloved waifu: ask an artist! There will be a lot of us there so why not find one with a style you like and ask about commissions! We will be accepting orders for digital commissions at SunnyCon all weekend starting from as little as £20! †
---
Newcastle Upon Tyne
Newcastle is our local city so for those out of towners who want the inside scoop on the best places to visit, eat, and shop whilst you're here for a weekend of geeky fun then you've came to the right place!
So, if you have time between all of the excitement of SunnyCon, the after parties, and cosplay shenanigans, where should you go? Luckily St James Park is within a few minutes walk of the city centre, with local metro trains and bus services aplenty too!
Food
Along with the usual fast food (Five Guys, Burger King, McDonalds, Pizza Hut, etc), you'll also find plenty of restaurants nearby. Our top recommendations have to be Za Za Bazaar (a world buffet that looks like the set of Blade Runner), and The Coop (delicious rotisserie chicken and shots of hot sauce).
Za Za in The Gate is our go to option for large groups because whilst it's pricey at £10-£15 per head it serves everything from curries, sushi, lasagna, pizza, fish and chips, and more – so you get to avoid the headache of finding something everyone likes. The Coop is a little further afield, near Central Station, but a chicken with sides and shots of sauce makes for a surprisingly tasty and charming place to eat.
If those options don't grab you Grainger Street and Eldon Square offer a whole host of options too. Wagamama is a well known Japanese restaurant chain if you want something familiar, or there's an entire section of Eldon Square devoted to new restaurants that are definitely worth a look. As a side note, if you venture into town during the day – check out the Grainger Market! This indoor market is 184 years old, and there are even more food options inside including a wonderful little stall that sells Gyoza and Bao!
You'll also find not one but two ice cream parlours on Grainger Street (Creams) and up the road from The Gate (Kaspas). We prefer Kaspas but what's not to like about a place that only serves desserts, and is all pink glitter and black leather?
Entertainment
Newcastle city centre has two cinemas that are both worth checking out. The Gate houses the local Cineworld with the usual selection of brand new releases and if you're eating there already why not see a film too? A little further away just off Northumberland Street and around the corner to Monument you'll find the Tyneside Cinema. It's an old newsreel cinema that often plays classic films, streams of national theatre plays, and more.
The Gate also has a gaming lounge, called The Ctrl Pad, that opened last year with plenty of retro and modern games to choose from. During the week they also host gaming tournaments, Dungeons and Dragons sessions, and more.
Shopping
You can find a surprising amount of geek retail within walking distance of the venue. In fact on Grainger Street you'll find the comic shops Forbidden Planet, and Travelling Man are practically next door to each other with the Geek Retreat cafe, and a Harry Potter store both almost directly across the road. Nearer to Eldon Square you'll find a great little geek merch shop tucked away on a corner filled with everything from Stranger Things, to Star Trek!
For those who find that their wallet is burning a hole in their pocket (and for some reason haven't spent it already in Artist Alley): there's also the Metrocentre, once the largest Mall in Europe according to my geography text books from the 90s – a short bus/metro ride away in Gateshead.
Local History & Culture
For those of you who want to spend some time outdoors and see some culture while you're at it, Newcastle and the surrounding area has several museums, art galleries, Roman ruins, beaches, aquariums, and some generally cool buildings.
Blue Reef Aquarium in Tynemouth is just a metro ride away, as is the fairground and beaches of South Shields (including arcades, a bowling alley, and swimming pools). South Shields also has a reconstructed Roman Fort built alongside the dig of the original fort! In Newcastle you can explore the Castle Keep, Laing Art Gallery, Life Centre, and even part of the medieval cities wall still stands along with Morden Tower near China Town (across the road from the venue).
The Castle Keep of Newcastle (or "Newcastle Castle") also has events and occasionally screens cult classic films on an evening. And luckily enough there's a screening there on the Saturday night of SunnyCon! So, if you'd like to watch George Romero's classic Night of the Living Dead, in an 800 year old castle you're in luck (and it's less than £10 admission too)!
---
Keep Up To Date
We'll be posting on Twitter and Instagram during the show, so whilst we'd love to see you there, if you can't make it you can still keep up to date and enjoy the weekend with us in spirit! And remember our books and more are now also available to buy online from our store!
For those who will be joining us: we look forward to seeing you there!
Until next time!
Davy
---
Related Posts