Discover angelKat
Hello and welcome to angelKat! Here you'll find the art and stories of Queer British comic book artist and illustrator Davy Shirley and his friends.
angelKat launched in 2009 as the online home of Davy's first comic series "Fera"- an LGBTQ+ adventure tale full of monsters, romance, and what would become angelKat's signature "clueless dorks in love".
Since then we've strived to tell fun and exciting stories with diverse and relatable characters in strange and wonderful worlds. Whether it's the fantasy realm of Fera's many monsters, The Editors shadowy superhero world, or the supernatural comedy of Hier Spirits – we plan to continue doing just that for a long time yet to come.
---
Products & Services
Here at angelKat we pride ourselves on creating high quality content and using our skills to provide experienced guidance and freelance services to individuals, events, and business clients.
Products
Digital Content
Video Tutorials
Services
Character Design & Illustration
Concept Art & Storyboarding
Graphic Design & Branding
Content Writing
Social Media Management
Web Development
Live Talks & Workshops
---
Meet Our Creators
angelKat may have started out with only Davy but as we've grown, and added new titles, so has our little creative family.
Find out a little more about our co-creators below.
---
Davy Shirley (Artist)
Digital artist, code monkey, and pun enthusiast.

Davy has been creating comics for over a decade, collaborating with creators from Disney and IDW, lettering official manga translations, and more. His debut LGBTQ+ comic series, Fera, has been nominated for Eagle Awards and British Comic Awards.

In his downtime he enjoys story-rich video games, tinkering with code (got to make use of that software engineering degree somehow), and annoying his other half with increasingly terrible puns.
---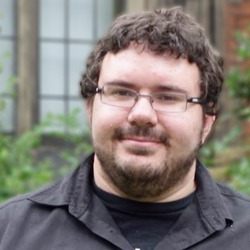 Paul Burr (Writer)
Writer, nerd, and Dungeon Master.

A long time avid fan of all things nerd ever since his older brother introduced him to their local comic book shop as an impressionable scamp. From that day he has been scribbling his mad ravings on paper in the hopes that people will one day read them. His comic, The Editors, was met with rave reviews and went on to be nominated for a British Comic Award.
Paul is a veteran hobbyist and tabletop Game/Dungeon Master, and a fountain of comic book trivia.
---
Donna McGarry (Artist)
Cartoonist, anime protagonist, and hype-person.

Protector of the vulnerable by day, and grumpy doodler of cartoons the rest of the time. Donna is best known for her encyclopedic knowledge of pop culture, love of long haired anime boys, and her bright pink hair.

Although she denies it, Donna is a life long otaku – launching one of the first Yu-Gi-Oh fan sites on the world wide web.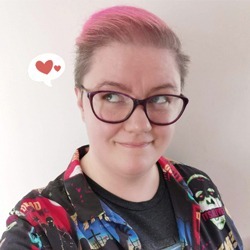 ---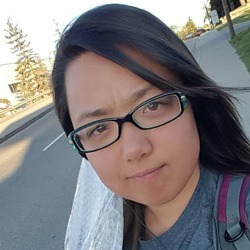 Anna Kyung (Writer)
Writer, photographer, and professional shape shifter.

A woman of many talents, Anna is a writer, cosplayer, photographer, and teacher. Her debut novel, Sorchen's Child is highly rated, and her first comic writing credit, Meta-Rising, was Kickstarted with art talent from the ranks of Marvel.

Anna is a self-described "weirdo" who loves travel, geeking out, and taking photos.
---