SunnyCon Anime Expo 2022!
1st June 2022
---
Finally, we're back at our favourite local convention this month on Friday 24th – Sunday 26th June 2022! This will be our first show since the start of the COVID-19 pandemic, and we're so excited to see you all again! The event is returning to St James Park in Newcastle Upon Tyne after being cancelled in recent years due to national lockdowns.
We'll be at Table A20, near the entrance to Level 4 in the Artist Alley all weekend and we hope you'll join us for some LGBTQ+ comics, terrible puns, and the resurrection of the Sketch Machine of Doom!
Some things to look out for this year;
Fantastic Butts & How To Draw Them: join angelKat for a fun 18+ art panel about what it takes to create the best 2D buns! Saturday at 1:30pm in the Moncur Suite (Level 3).
SunnyCon Stamp Rally Books: a scavenger hunt to collect all of the stamps hidden around the venue. Pick up your book from the Sunny Merch Table, and once completed you can enter to win VIP Tickets for SunnyCon 2023!
---
How To Find Us
Our huge table should be easy enough to spot in the Artist Alley, but a map is always helpful! You can find us on Level 4 at Table A20.
Catch the lift or escalators up to Level 4, and head through the door to the right. You'll also find a ton of other amazing artists, the event main stage, and card tournament area here too.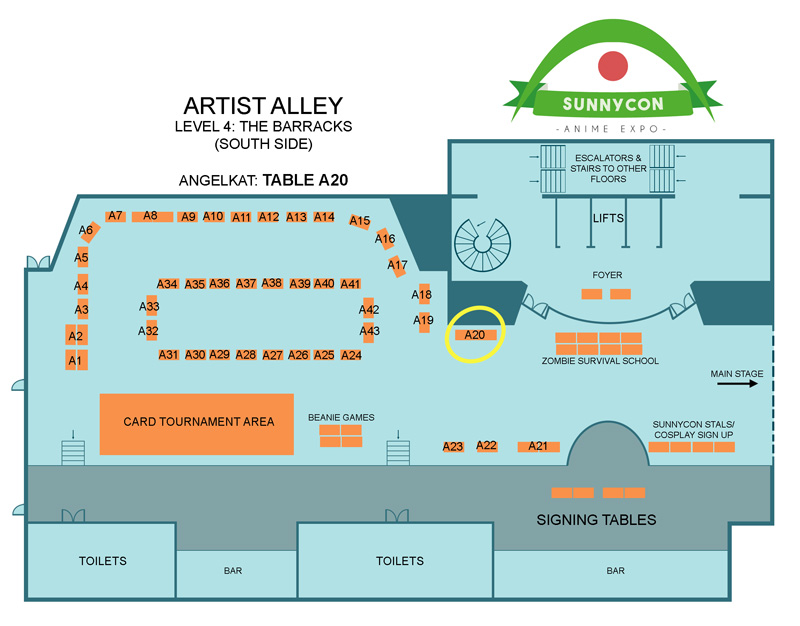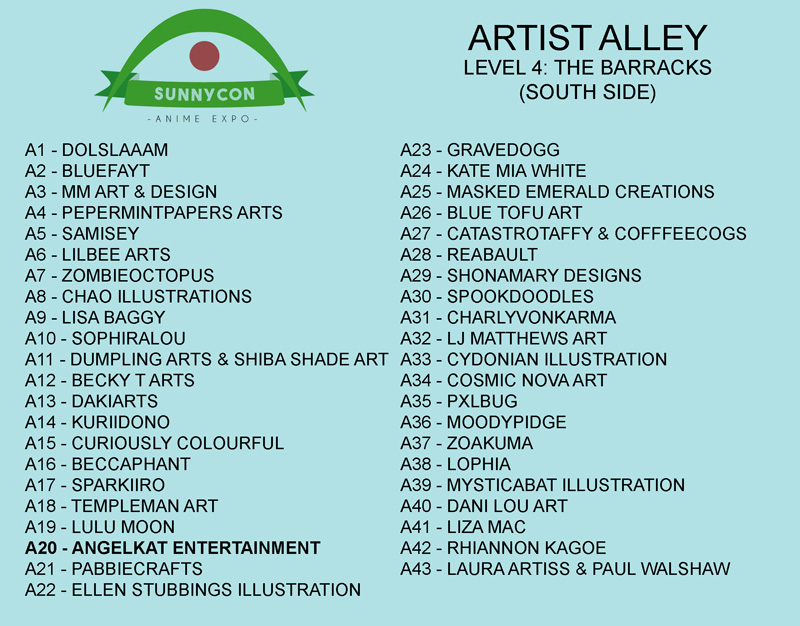 ---
Surviving An Anime Convention
Whether it's your first convention, or your first one back from the pre-plague days we've put together some tips to help you make the most of your weekend.
First let's get the "we shouldn't have to say this but…" section;
Personal hygiene is important! Shower daily. Wash your hands. Don't be afraid to wear a mask!
Be polite and respectful of others.
Cosplay is not consent: no touchy and ask before snapping photos.
Keep your valuables safe: sadly in any crowded event there may be some less than honest folks too so don't lose your phone/wallet/purchases to someones sticky fingers! SunnyCon do have a secure cloakroom available if you don't want to carry stuff around.
Now that that's out of the way;
Make sure you stay hydrated and get something to eat. It's easy to forget, and often St James Park can get pretty warm and busy. SunnyCon do have free water stations set up around the venue, and there are places to grab a bite to eat inside the venue too.
Check the show schedule – if there's something you want to do, you should probably make sure you know when and where it's taking place. Pick up a schedule from the front desk or Sunny Merch Table on Level 4.
Try not to spend all of your money on day one if you're going to be there all weekend. We won't complain if you spend it all with us, but that doesn't mean you should make yourself short for things later in the weekend (or spend your lunch money for next week).
If you can't find something specific to your favourite fandom or beloved waifu: ask an artist! There will be a lot of us there so why not find one with a style you like and ask about commissions!†
---
Newcastle Upon Tyne
Newcastle is our local city so for those out of towners who want the inside scoop on the best places to visit, eat, and shop whilst you're here for a weekend of geeky fun then you've came to the right place!
So, if you have time between all of the excitement of SunnyCon, the after parties, and cosplay shenanigans, where should you go? Luckily St James Park is within a few minutes walk of the city centre, with local metro trains and bus services aplenty too!
Food
With the city centre only minutes away there are plenty of places to eat and drink. Eldon Square has a great choice of restaurants (we recommend the Custard Bao from Umai Mi). Or head towards Central Station and discover COOP Chicken House amazing chicken and hot sauces! And if you have a sweet tooth Kaspas is our favourite dessert place in the city.
Shopping
I've already mentioned Eldon Square, and there's plenty of other great places to shop in the city such as the Grainger Market or Northumberland Street. But for the geeks among us, make sure to check out Grainger Street. Here you'll find Forbidden Planet, Travelling Man, Geek Retreat, and just up the road Details Art Materials.
Other Places To Visit
For those of you who want to spend some time outdoors and see some culture while you're at it, Newcastle and the surrounding area has several museums, art galleries, Roman ruins, beaches, aquariums, and some generally cool buildings.
Blue Reef Aquarium in Tynemouth is just a metro ride away, as is the fairground and beaches of South Shields (including arcades, a bowling alley, and swimming pools). South Shields also has a reconstructed Roman Fort built alongside the dig of the original fort! In Newcastle you can explore the Castle Keep, Laing Art Gallery, Life Centre, and even part of the medieval cities wall still stands along with Morden Tower near China Town (across the road from the venue).
The Castle Keep of Newcastle (or "Newcastle Castle") also has events and occasionally screens cult classic films on an evening.
---
Follow Us On Social Media For Updates!
We'll be posting on Twitter and Instagram during the show, so whilst we'd love to see you there, if you can't make it you can still keep up to date and enjoy the weekend with us in spirit! And remember our books and more are now also available to buy online from our store!
We hope to see you there!
Davy
---
Related Posts