SunnyCon Anime Expo 2018!
6th June 2018
---
Hey everyone! It's that time of year again. We're returning to our favourite local convention: SunnyCon Anime Expo in Newcastle Upon Tyne! You can find us on Level 4 at table 127 – directly across from the entrance on the right!
The show is on Friday 22nd June – Sunday 24th June. Boasting a ton of amazing activities, stalls, artists, performances, cosplay, and more. This year that includes; "The Yaoi Gameshow" hosted by our friend Tab Kimpton. Water colour classes hosted by the amazingly talented Kidura. Performances by the Kaminari UK Taiko Drummers. Japanese language taster sessions from Newcastle University. Whiskey tasting. And a special murder mystery themed escape room game! And that's without mentioning the gaming area, voice actor signings/talks, and us of course.
As for angelKat, you'll be able to find us behind our gigantic twelve foot rainbow-adorned table in Artist Alley. We'll be peddling our comics, art prints, mugs, stickers, pins/badges, limited edition (and one of a kind) artwork, custom sketches, and taking commission slot bookings with an exclusive convention-only discount!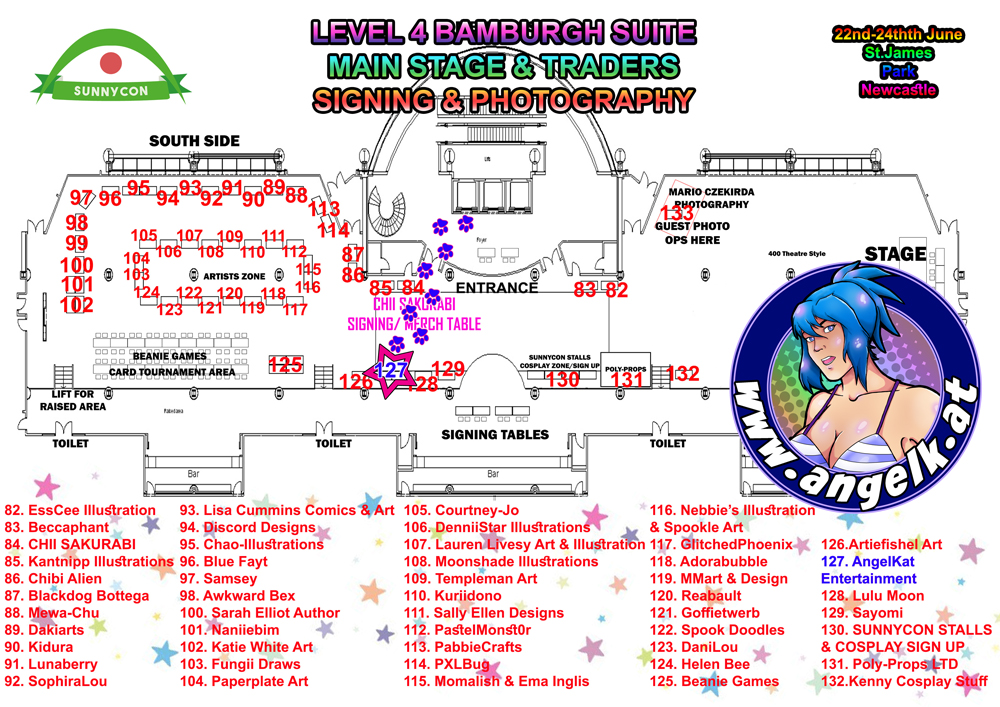 ---
Newcastle Upon Tyne
SunnyCon Anime Expo is our favourite local show for a reason; the atmosphere, amazing venue and staff, friendly attendees, etc. really set this event apart as one that we love to support and attend/exhibit at every year.
Not to mention how much we love the host city. We're a little biased here as locals. However, you couldn't ask for a better place for a geeky weekend. St James Park is only a few minutes walk from the city center where you'll find a ton of great places to eat. Whether you want to play it safe with a Five Guys burger or something a little more hipster like The Botanist. The city has a huge variety of Chinese, Korean, Japanese, and Vietnamese restaurants. How about restaurants that serve nothing but ice cream and cake like Kaspas? Or do you prefer menus packed with innuendo like The Rub? Of course there are plenty of pizza places to choose from. Or if you can't decide: why not try ZaZa Bazaar in The Gate, which serves up a tasty world buffet in a Blade-Runner-esque setting. Or you could wander a little further to our favourite chicken place The Coop for rotisserie chicken and shot glasses of your choice of sauce (including some that require waivers for those who like to live dangerously).
If you're more interested in just piling on some more geekery on top of your weekend Newcastle has you covered. Our two major comic book stores are practically neighbours – Forbidden Planet and Travelling Man. You can even relax in the Geek Retreat cafe across the road too! For those inspired by Kidura's watercolour class: why not check out the Newcastle Arts Centre just up the road from the venue?
---
Join The Fun!
So why not join us for a day or three of geeky fun, try your hand at something new, throw an axe or something at a zombie, or even come and get a cheeky sketch from angelKat?
For now, remember to follow us on Instagram and Twitter for updates from us at SunnyCon, photos, and maybe even a live stream if the WiFi gods allow!
We look forward to seeing you there!
Until next time!
Davy
---
Related Posts