Scotland MCM Comic Con 2016!
18th September 2016
---
This weekend (24th – 25th September) we'll once again be heading to Glasgow for Scotland MCM Comic Con! You'll be able to find us in the Comic Village at Table D5 with stacks of comics, art prints, and more.
I'll be doing sketch commissions all weekend including butts, angelKat caricatures, and the random fun of the SKETCH MACHINE OF DOOM! I'll also have preview pages of new comics I've been working on, including Hier Spirits, which so far has only been seen by Patreon supporters, and should have physical copies of Project Autumn for sale too.
---
Check out the map below to find us!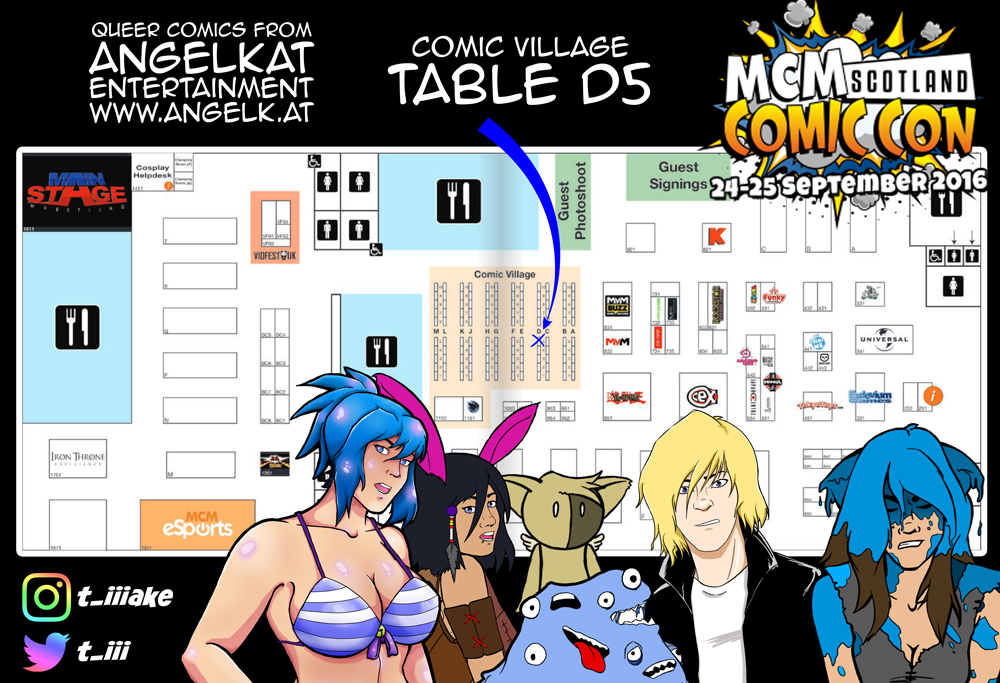 Be sure to check out some of the Comic Village – there's a ton of talented UK comic talent to be found, and if you've ever wished there were comics that featured more "X", whether that be PoC, queer, ace, disabilities, music, tea, shoe-centric martial arts, or your favourite subculture then you're probably going to find it here. Take a look at the map below for some of our recommendations to get you started!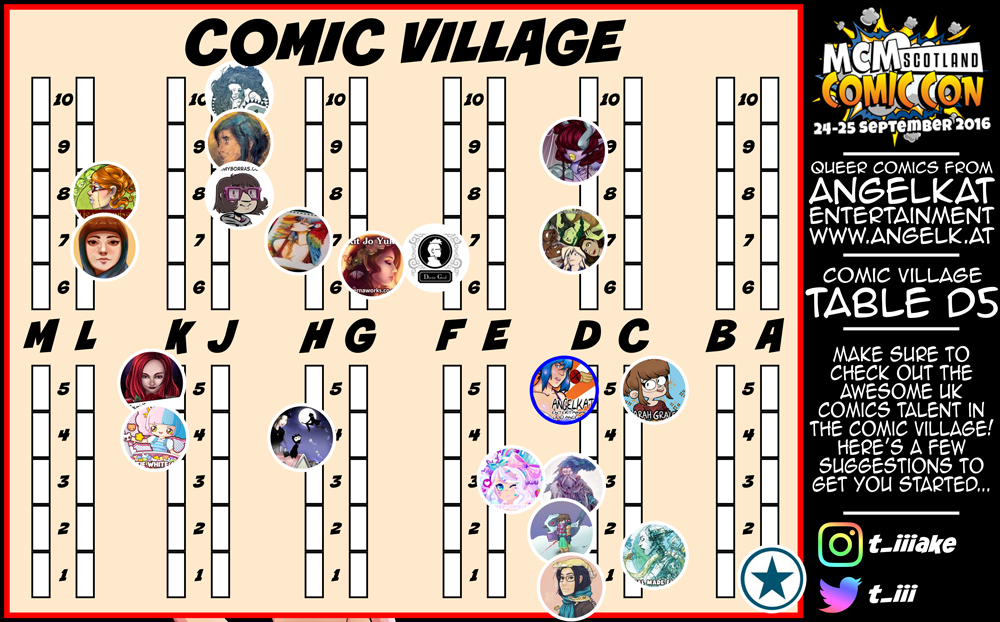 ---
Surviving Comic Con 101
As always, practical and safety things to keep in mind; you're in a crowded, often warm venue on your feet all day – make sure to drink plenty fluids, have a proper meal or two each day, keep your valuables safe (phone, keys, wallet), make sure your phone is properly charged, and enjoy yourself. If you're going with friends, make sure to decide on a place to meet up in case you're separated too as it's easy to do so in a crowd. You can find help, and show guides at the information booth (the big orange circle above Kato's head on the map) as well as from staff and stewards around the venue – they'll be the ones wearing MCM staff/steward shirts!
Cash-wise, there'll probably be cash machines in the venue – but with the size of MCM shows these can run out pretty early in the weekend, so it can be a good idea to get your cash before heading to the venue. That said, a lot of dealers and artists will accept card (even we accept chip and pin, contactless, PayPal, and Apple Pay – so long as we can get a mobile data signal).
---
Updates On Socials
Remember, we'll be updating Twitter and Instagram all weekend with photos and info so make sure to follow our adventures there!
We look forward to seeing you there!
Davy
---
Related Posts