London MCM Comic Con May 2013!
21st May 2013
---
There are only three days until MCM Comic Con in London, are you excited yet? Are you prepared? You've got your tickets, arranged your transport, and left the cat with your sister? But what will you do once you get there?
Well, may we suggest that you drop by the angelKat Entertainment table in the Comic Village (table J1) and say hello! We're a friendly bunch and our neighbours are too. The Comic Village is brimming with amazing indie comics, beautiful artwork, and friendly artists. We've been exhibiting since 2010, and trust us when we say that you'll love the variety in the Comic Village. Sure, there are other attractions – the gaming booths from Capcom, Nintendo, etc. or the amazing selection of merchandise dealers, guests, and of course the League of Legends tournament finals on Sunday.
But in the Comic Village you'll get to meet these lovely people; DestinyBlue, Rob Cureton (Orful Comics), Hester 'Morti' Macfarlane, Naniiebim, Lisa 'Baggy' Cummins, Huy Truong, Emily and Ally (Footloose), Tanya Roberts, Kai Lynn (Di-San), Ryuuza, Jack Lawrence, and many more. And us, I guess you could meet us if you really wanted to.
It should be noted that our good friends Dr Geof Banyard and Mr Tab Kimpton (Discord Comics) won't be joining us in the Comic Village this year, as they are out gallivanting in the exhibition areas. You can find Geof in the Steampunk Exhibition to the right of the Comic Village – next to the MCM eSports tournament theatre. Tab will be in the section marked C on the map below, to the far left as you enter the hall.
We'll have the usual assortment of goodies, including the first two issues of Fera, the last of the first edition issue #1 of The Editors, the angelKat Adventures mini-comics, brand new posters and artwork, new art cards, badges, and I will be sketching caricatures and butts, because that's apparently something that I do now. As always, if you're the first to turn up in cosplay as one of our characters you'll get a free comic, or free sketch/digital commission. We'll also have exclusive convention deals – so you can get bundle offers and discounts that won't ever be available in our online store (you know, when that launches next month).
Depending on internet access at the event, we might post some fun contests on Twitter! If we can, they'll likely take the form of questions that you must answer by coming to the table, or they'll be treasure hunts where you have to find a particular thing at the event and bring us proof that you found it. If we can do this, the prizes will range from quick sketches, to full digital commissions.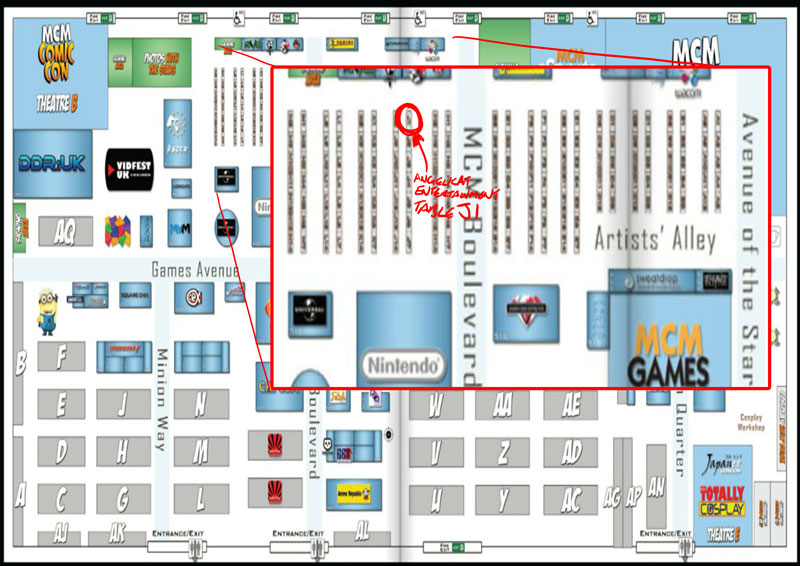 So, to find us, you want to head to the Comic Village, but how to best get there you ask? Well, if you follow the main "MCM Boulevard" you will pass Manga UK, Capcom, Bandai, and finally Nintendo – once there we are at the far end of Row J, which is just one row to the left of the main Boulevard.
We hope to see you there!
Davy
---
Related Posts